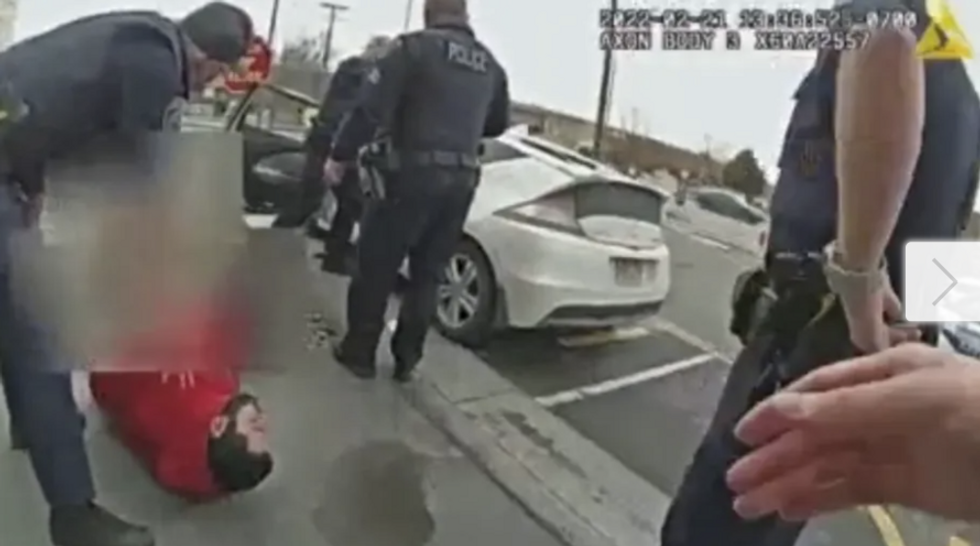 Concerning bodycam video shows the moment a 4-year-old fired a gun at police as they were arresting his father at a McDonald's in Utah.
This week, the Unified Police Department released bodycam footage of the arrest of Sadaat Johnson, 27, during an incident around 1:30 p.m. on Feb. 21. McDonald's employees contacted police after Johnson allegedly brandished a gun in the drive-thru after his fast-food order was incorrect.
Police arrived on the scene and ordered Johnson to exit his white Honda Civic. Initially, Johnson refused to get out of the vehicle. He then cooperated with law enforcement and was physically extracted from the car by police officers.
Bodycam video shows police handcuffing Johnson.
Suddenly, an officer yells, "Gun!" Seconds later, a shot is fired from the car. A cop screams, "Drop the gun!"
Another officer cautions, "Kids! Kids! Kids! Kids!"
There were two children in the back of the car – a 3-year-old and a 4-year-old.
KTVX reported, "The officer used his hand to sweep the gun away and the gun went off, hitting the upper part of the McDonald's building. The officer then yelled at the person inside of the car to drop the gun, and after looking inside the car, realized that it was a small child."
The police bodycam video shows the children crying as they exit the vehicle.
Police said the child told them, "I grabbed my dad's gun and tried to shoot the police so he could be free and do what he wanted."
The 4-year-old reportedly told police that he shot the gun because "he wanted his daddy back." The child also informed police that during the altercation, Johnson told the children, "The police officer cannot open the door."
A preliminary investigation indicated that Johnson instructed his child to shoot at officers, according to police.
Johnson told authorities that this was not the first time his son had "gotten a hold of his gun."
Alexis Davis – Johnson's wife and the mother of their 4-year-old child – said in February, "It kind of brought me to my knees because he put a loaded weapon in my 4-year-old's hand."
Johnson told police that he "blacked out" for 30 seconds after he began arguing with the McDonald's employee over the fast-food order. Johnson denied brandishing the firearm, but surveillance video shows him doing so, according to court records.
In March, Johnson was charged with child abuse, aggravated assault, and interference with an arresting officer.
"To have an adult think it is okay to encourage a [4]-year-old to pull a firearm and shoot at police illustrates how out of hand the campaign against police has gotten," Salt Lake County Sheriff Rosie Rivera said in February. "This needs to stop and we need to come together as a community to find solutions to the challenges we face in our neighborhoods. Officers are here to protect and serve and we are beyond belief that something like [this] could happen."
window.REBELMOUSE_LOWEST_TASKS_QUEUE.push(function(){
//Facebook Pixel Code !function(f,b,e,v,n,t,s) {if(f.fbq)return;n=f.fbq=function(){n.callMethod? n.callMethod.apply(n,arguments):n.queue.push(arguments)}; if(!f._fbq)f._fbq=n;n.push=n;n.loaded=!0;n.version='2.0'; n.queue=[];t=b.createElement(e);t.async=!0; t.src=v;s=b.getElementsByTagName(e)[0]; s.parentNode.insertBefore(t,s)}(window, document,'script', ' fbq('init', '1398069580413568'); fbq('track', 'PageView');
});
window.REBELMOUSE_LOWEST_TASKS_QUEUE.push(function(){
function menuClick() { console.log("clicked");
if (document.querySelector('.hambg-btn.js--active') != null) { document.getElementsByClassName('huge-menu')[0].style.display = 'none'; document.getElementsByClassName('hambg-btn')[0].classList.remove('js--active'); document.body.classList.remove("huge-menu-opened"); document.body.classList.remove("menu-opened"); } else{ document.getElementsByClassName('huge-menu')[0].style.display = 'block'; document.getElementsByClassName('hambg-btn')[0].classList.add('js--active'); document.body.classList.add("huge-menu-opened"); document.body.classList.remove("menu-opened"); } }
function addMenuClickListener() { var rebelMenu = document.getElementsByClassName('rebelbar__menu-toggle'); var menuClose = document.getElementsByClassName('hm__close'); var stickyMenu = document.getElementsByClassName('sticky-menu');
rebelMenu[0].addEventListener('click', menuClick);
if(menuClose[0] != undefined){ menuClose[0].addEventListener('click', menuClick);}
if(stickyMenu[0] != undefined){ stickyMenu[0].addEventListener('click', menuClick); } }
addMenuClickListener();
});
window.REBELMOUSE_LOWEST_TASKS_QUEUE.push(function(){
const container = document.querySelector('body')
var elP = document.createElement('p');
const observer = new MutationObserver((mutations, obs) => { const spopup = document.getElementById('sailthru-overlay-container'); if (spopup) { console.log(spopup); document.querySelector('.sailthru_element_email-input').addEventListener("keypress", function(event) { if (event.key === "Enter") { event.preventDefault(); document.querySelector('.sailthru-overlay-validation-error').style.display = 'none'; } }); spopup.appendChild(elP); obs.disconnect(); return; } }); observer.observe(document, { childList: true, subtree: true });
});
window.REBELMOUSE_LOWEST_TASKS_QUEUE.push(function(){
window.REBELMOUSE_STDLIB.loadExternalScript(" function() {
window.analyticsData = { events: {active: {view: {asset: {}}, device: {}}} }; window.analyticsData.events.active.device.appVersion = "1.1"; window.analyticsData.events.active.device.host = "premiere.off.us"; window.analyticsData.events.active.device.subHost = "theblaze.com"; window.analyticsData.events.active.pageName = "articles"; //window.analyticsData.events.active.view.asset.id = "articles|"+ __BOOTSTRAP__.post.basename; window.analyticsData.events.active.view.asset.name = document.title; //window.analyticsData.events.active.view.authorId = __BOOTSTRAP__.post.original_user_subsite.title; window.analyticsData.events.active.view.pubDate = "07/21/2022"; window.analyticsData.events.active.view.contentOriginType = "Premiere"; window.analyticsData.events.active.view.stationCallLetter = "TheBlaze"; window.analyticsData.events.active.view.stationFormat = "NEWSTALK"; window.analyticsData.events.active.view.stationMarket = "PREMIERE"; window.analyticsData.events.active.view.personalityId = "theBlaze"; window.analyticsData.events.active.view.tags = ["bodycam-video", "bodycam-footage", "sadaat-johnson", "utah", "guns", "mcdonalds"]; window.analyticsData.events.active.view.photoGalleryExists = "FALSE"; window.analyticsData.events.active.view.photoGalleryPageView = "FALSE"; window.analyticsData.events.active.view.contentFrame = "page"; window._satellite && _satellite.pageBottom();
});
});
window.REBELMOUSE_LOWEST_TASKS_QUEUE.push(function(){
function test_adblock(func, id) { var t="0.1.2-dev", el = document.createElement('div'); el.id = id ? id : 'sponsorText'; el.appendChild(document.createTextNode(' ')); Object.assign(el.style, { left: '-999px', position: 'absolute' }); document.body.appendChild(el); setTimeout(function() { if (el) { var o = el.clientHeight === 0; func(o, t); document.body.removeChild(el); } }, 200); } test_adblock(function(is_blocked) { console.log(is_blocked); var wid = is_blocked ? 140286 : 140117, target = document.getElementById('rc-adblock-widget'); var el = document.createElement('div'); el.setAttribute('data-rc-widget', ''); el.setAttribute('data-endpoint', 'trends.revcontent.com'); el.setAttribute('data-widget-id', wid); target.appendChild(el); if (typeof window.renderRCWidget !== 'function') { var script = document.createElement('script'); script.src=" script.defer = true; target.appendChild(script); } else { window.renderRCWidget(el) } });
});
window.REBELMOUSE_LOWEST_TASKS_QUEUE.push(function(){
window.REBELMOUSE_STDLIB.loadExternalScript(" function() {
});
});
window.REBELMOUSE_LOWEST_TASKS_QUEUE.push(function(){
if(document.querySelector("#icheck").value != ''){ document.querySelector(".message_bot_error").style.display = "block"; }else{ document.querySelector(".message_bot_error").style.display = "none"; }
});
window.REBELMOUSE_LOWEST_TASKS_QUEUE.push(function(){
(function(s,u,m,o,j,v){j=u.createElement(m);v=u.getElementsByTagName(m)[0];j.async=1;j.src=o;j.dataset.sumoSiteId='f20bb26e74a94a53daa9113206b98941e1dfba90635d317b9efd9e33a89bf515';v.parentNode.insertBefore(j,v)})(window,document,'script','//load.sumo.com/');
});
window.REBELMOUSE_LOWEST_TASKS_QUEUE.push(function(){
var event = new Event('viewRegistry:initViews'); // Listen for the event. elem.addEventListener('viewRegistry:initViews', function() { window.COMSCORE && COMSCORE.beacon({c1: "2", c2: "6036262"}); });
// Dispatch the event. elem.dispatchEvent(event);
});